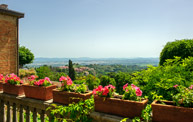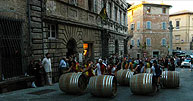 Bravio delle Botte
August - Old Town

Events
The calendar of the events:
The most important events of the Montepulciano territory and surroundings.
» Arts and Antiques Market - Piazza Grande - Montepulciano
Every second Sunday and Saturday before the exhibition and sale of antique objects, second-hand clothing, antiques, handicrafts, prints

Collectibles, hobbies in antiques, musical instruments, furniture and other various materials, antiques, used, old or ancient.
&raquo more info
» LIVE ROCK FESTIVAL 2014 - Acquaviva (SI)
10-14 September 2014
In Acquaviva of Montepulciano comes back the LIVE ROCK FESTIVAL OF BEER. The energy of thelive concerts. Organizing this eighth edition, the COLLECTIVE PIRANHA insists on the roadof the innovation, of the exclusiveness, beting on the contents and on the quality. Inaddition to the space reserved to the exploitation of the local proposals, each eveningwill articulate around innovative musical languages, fizzy and bold (all the shows will befree).

» FAMIGLIE IN FATTORIA 2014 - Montepulciano e dintorni
For info and reservations: E-mail: assosimple@gmail.com / tel: 338 4893546

Albergo Il Marzocco
Piazza Savonarola, 18 53045 Montepulciano
Siena - Tuscany - Italy
Tel. +39 0578757262
Fax +39 0578757530
E-mail:
info@albergoilmarzocco.it
P.IVA 00038900528